Discover the beauty and wonder of Rocky Mountain National Park in this stunning second edition of Wild Light, an award-winning hardcover coffee table book by photographer Erik Stensland. This edition is now better than ever and features 168 new photos, updated content, and additional pages that showcase the park's diverse and majestic landscapes.
Wild Light celebrates the magnificence of Rocky Mountain National Park through an unparalleled collection of photographs. Erik's images are characterized by the vibrant hues and textures found during early morning and evening light. They feature lofty, untamed mountains, color-drenched wildflower meadows, crashing streams, and glassy alpine lakes. This spectacular work reflects Erik's abiding passion for the park and deep understanding of the ebb and flow of the seasons and of the flora and fauna of this rugged yet beautiful landscape.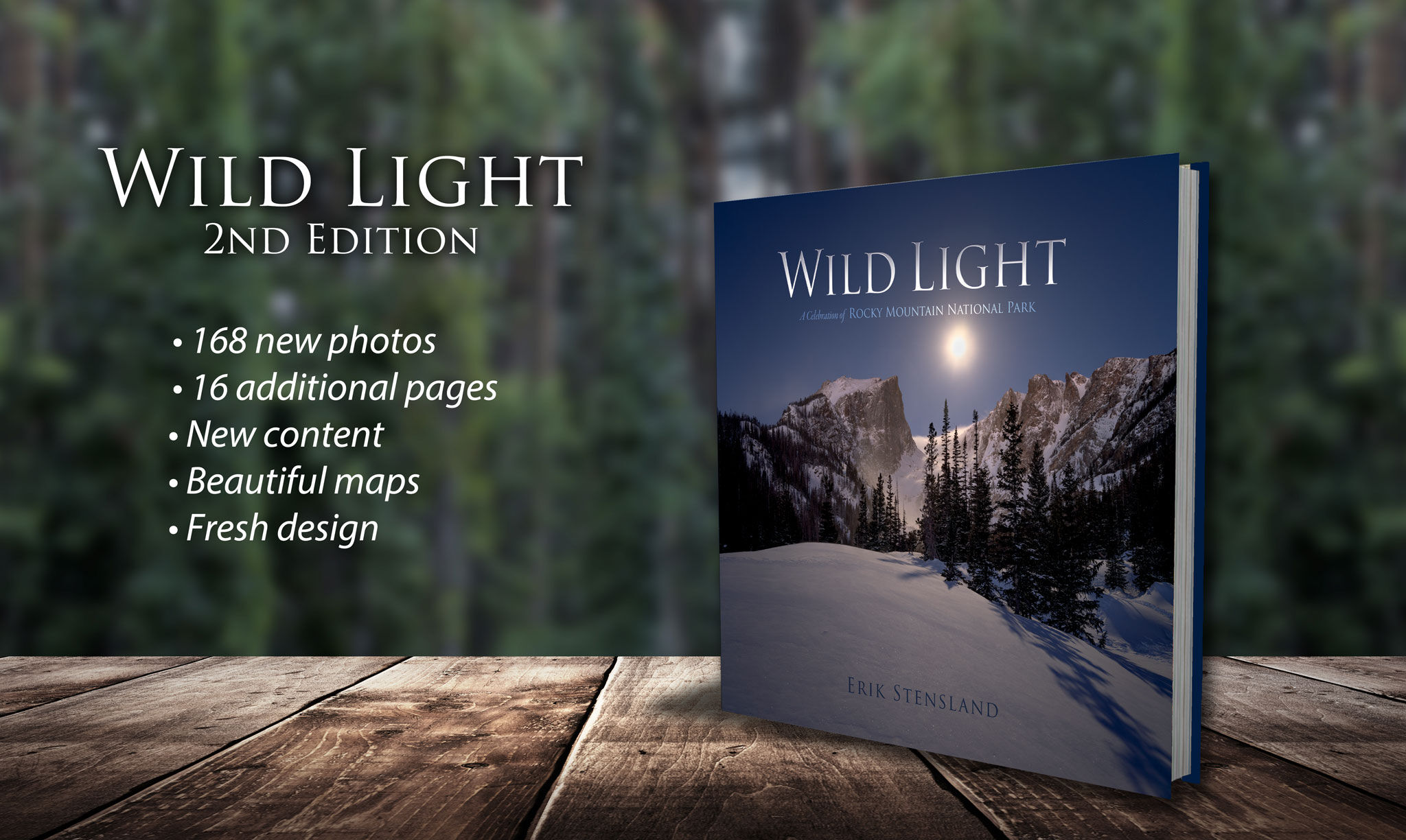 Wild Light's breathtaking photography is accompanied by Erik's often thought-provoking and lyrical observations. In the great tradition of naturalist John Muir, Erik highlights the paradox of wilderness in its ability to invite us deeper into what makes us human. A perfect stand of fall aspen or the unblinking eyes of a mule deer call forth both awe and reflection.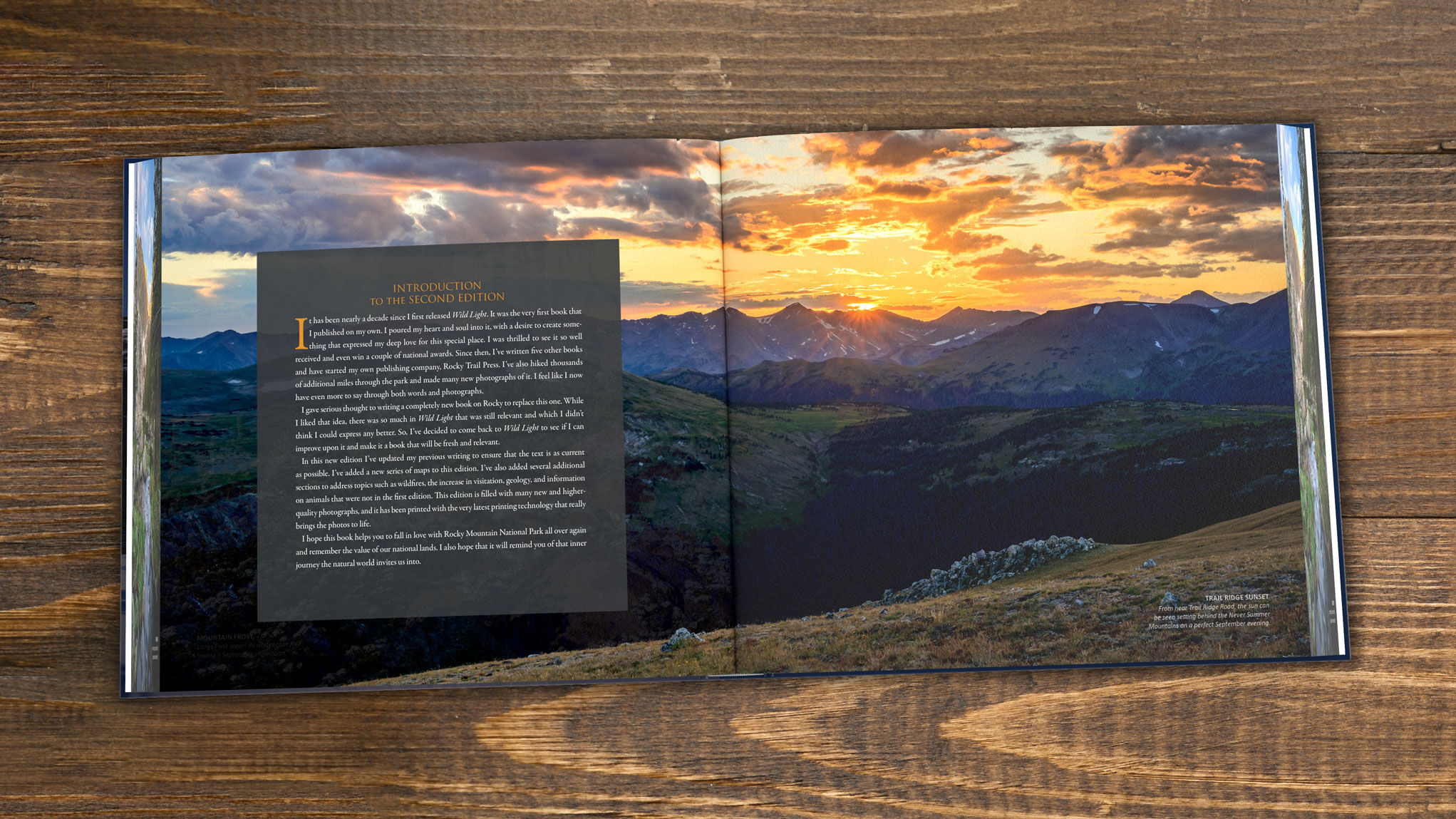 With a comprehensive overview of regions, seasons, ecosystems, and wildlife, Wild Light offers a greater understanding of the national treasure that is Rocky Mountain National Park. One of the myriad emotions that Wild Light evokes is a deep thankfulness that the stunning landscapes and wild ecosystems of this century-old park were preserved for many generations to enjoy. Its images will imprint themselves on the mind of all readers and inspire them to explore and protect this precious wilderness. You will find yourself both educated and inspired as you read through this inspiring work.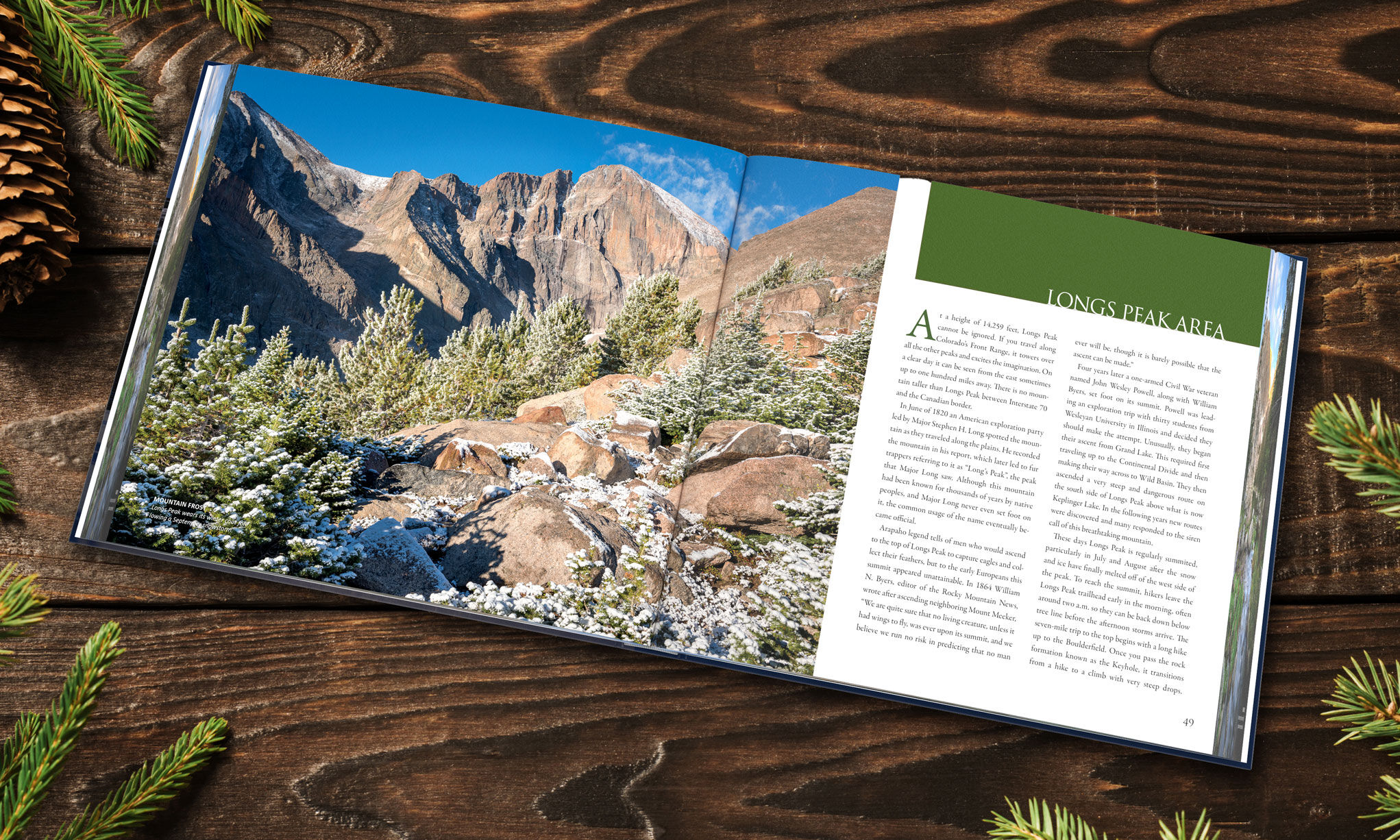 Wild Light is more than just a book; it is a visual journey that will transport you to the heart of Rocky Mountain National Park and make you feel a part of this lofty terrain.
Comments on the Book:

I really don't have the words to describe how awesome this book is! I felt like a kid on Christmas morning as my husband and I looked through it. - M. Doherty
Well let's just say it doesn't disappoint. It has that special wow factor to it. If you are on the fence about ordering this or not, I would strongly suggest you order it. This is really awesome. - J. Young
We received the Wild Light book and after a quick review I can say that you guys hit a home run! Great selection of pictures and the quality is over the top. - J. Januszewski
Wild Light is beyond expectations.....Its just perfect, its beauty brings me to tears. - M. Kompass
We recently received your new book Wild Light 2 and I can't put it down! - D. McKeen
...totally amazed at the quality of the photos and caption comments. This is an extremely quality product. I have been hiking Rocky for the past 30 years and this book is bringing back so many wonderful memories. - B. Meredith

Details
This is a high-quality, hard cover coffee table book that will look gorgeous in any room. Along with educational and inspiring writing about nearly all aspects of Rocky Mountain National Park, it features 194 of Erik Stensland's best photos of Rocky.
Pages: 240
Size: 11.75" x 10.75" x 1"
Weight: 3 lbs. 14 oz.
Format: Printed Laminated Hardcover (PLC) with French-fold dust jacket.
Paper: 150gsm art gloss paper
Certification: Forest Stewardship Council's seal, confirming that the paper comes from renewable sources and that eco-friendly inks are used.
Books per Carton: 8

Retail Price: $49.95
Distribution: Rocky Trail Press, Ingram
ISBN: 9781970099119
BISAC: TRV025120, TRV018000, NAT041000, TRV019000, PHO011020, PHO019000.
Award Winning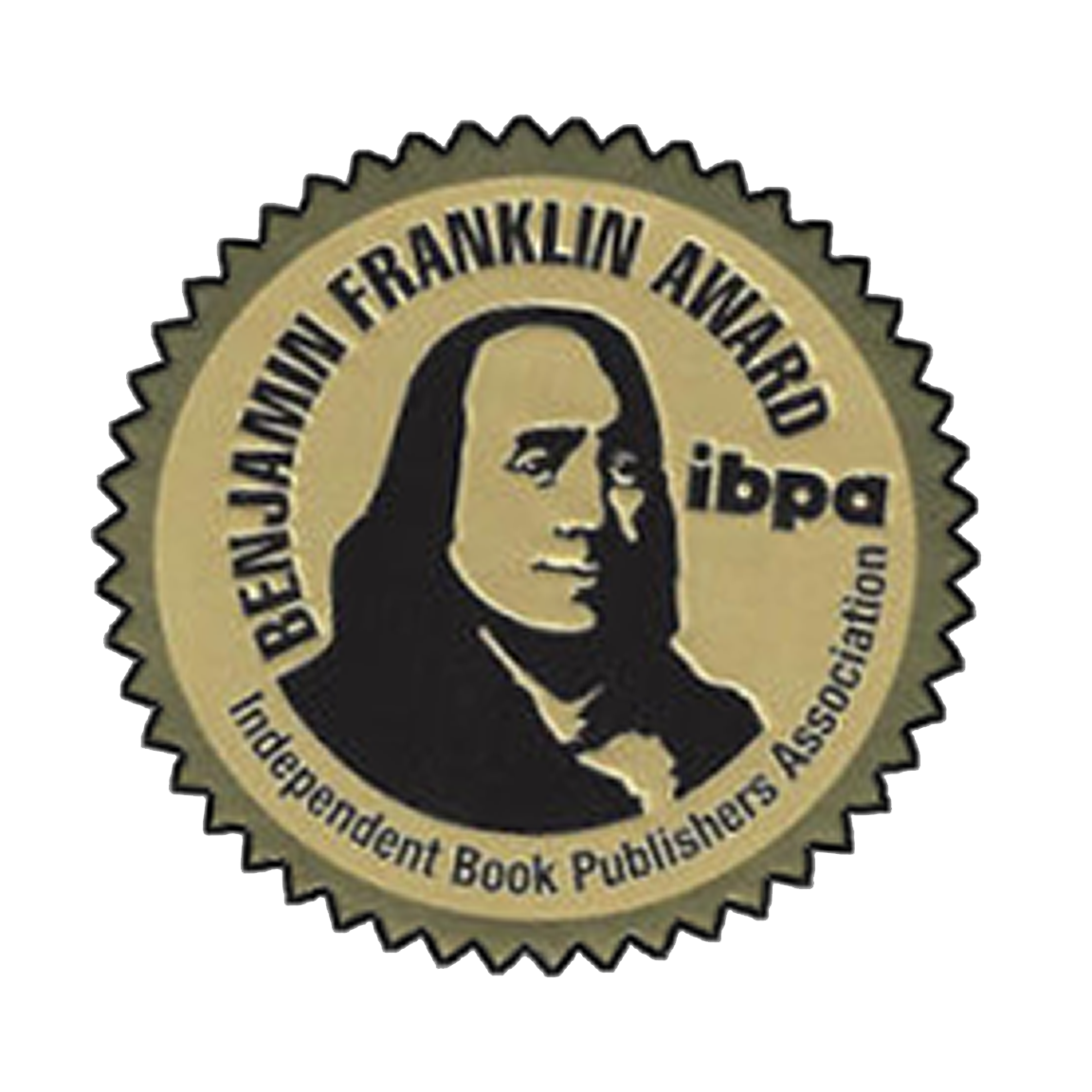 The first edition of Wild Light received acclaim from many different places including the Independent Book Publisher's Association which represents nearly 4,000 publishers in the United States. In April of 2015, at their ceremony in Austin, Texas, Wild Light received the Benjamin Franklin Award for best book in the Nature and Environment category and a runner-up award in the Coffee Table Book category. Since then, this book has been updated and greatly improved, making it even better than the first edition.
This book was just released on September 1st 2023.