Discover the beauty and wonder of Rocky Mountain National Park in this stunning second edition of Wild Light, an award-winning hardcover coffee table book by photographer Erik Stensland. This edition is now better than ever and features 168 new photos, updated content, and additional pages that showcase the park's diverse and majestic landscapes.
Wild Light celebrates the magnificence of Rocky Mountain National Park through an unparalleled collection of photographs. Erik's images are characterized by the vibrant hues and textures found during early morning and evening light. They feature lofty, untamed mountains, color-drenched wildflower meadows, crashing streams, and glassy alpine lakes. This spectacular work reflects Erik's abiding passion for the park and deep understanding of the ebb and flow of the seasons and of the flora and fauna of this rugged yet beautiful landscape.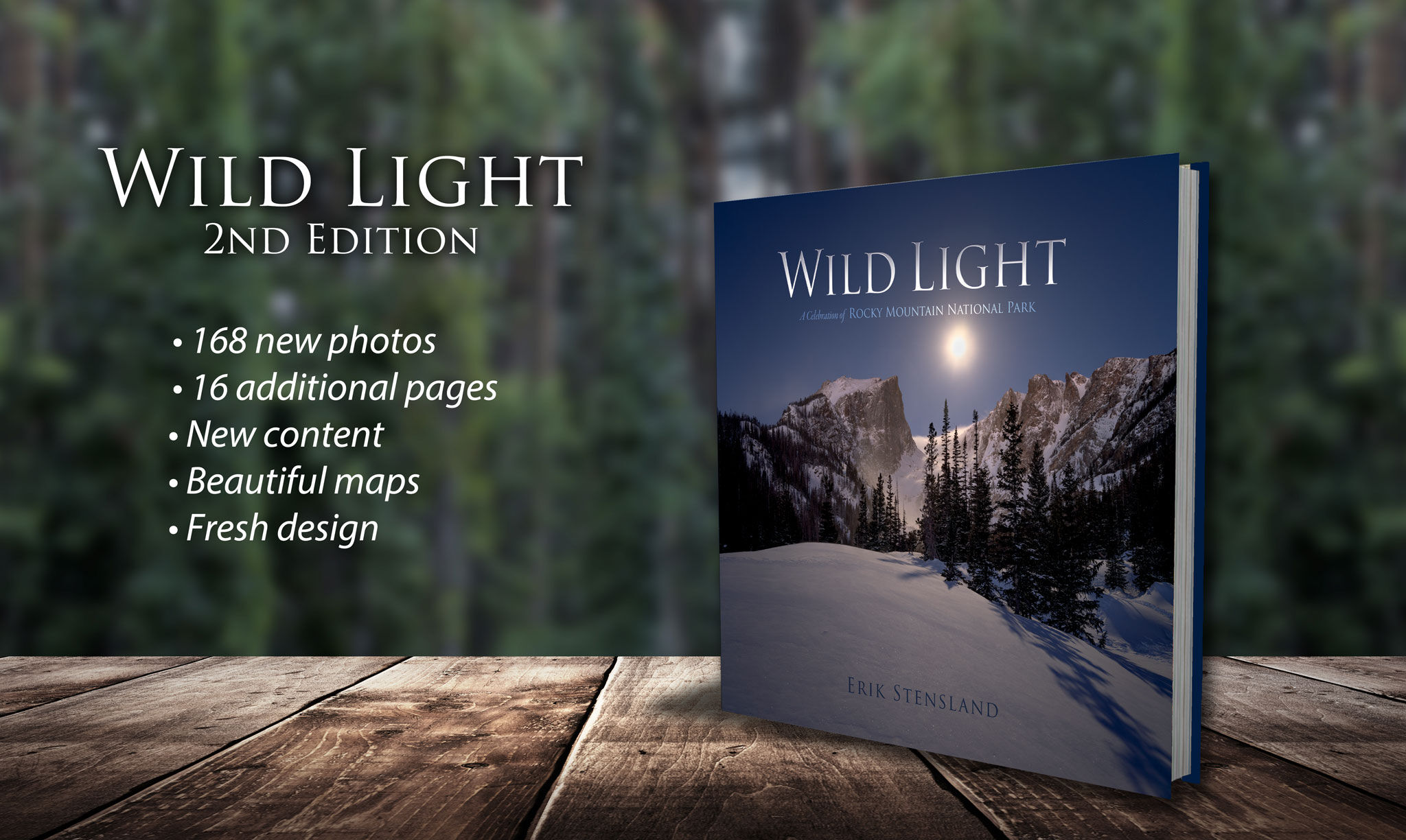 Wild Light's breathtaking photography is accompanied by Erik's often thought-provoking and lyrical observations. In the great tradition of naturalist John Muir, Erik highlights the paradox of wilderness in its ability to invite us deeper into what makes us human. A perfect stand of fall aspen or the unblinking eyes of a mule deer call forth both awe and reflection.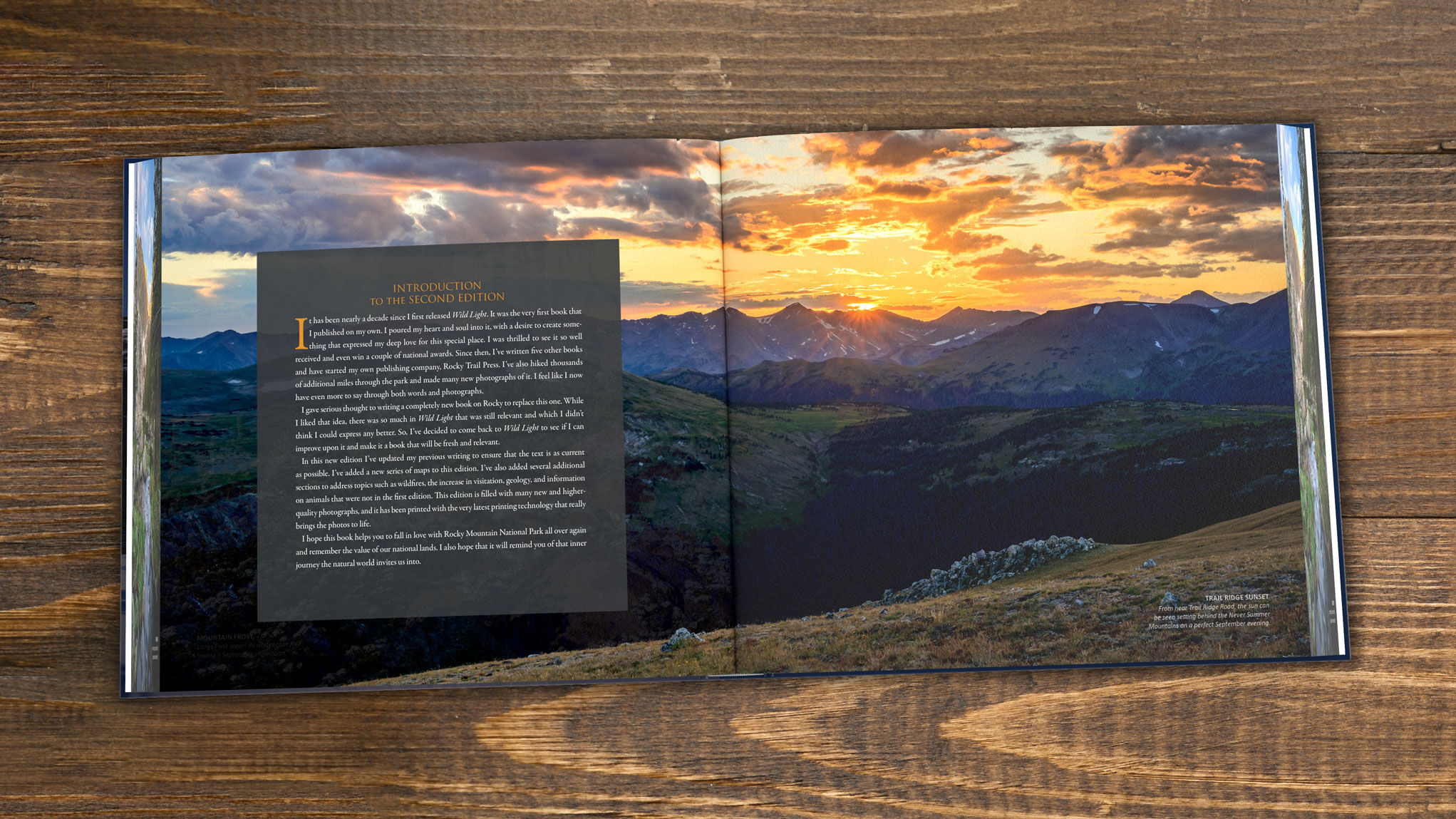 With a comprehensive overview of regions, seasons, ecosystems, and wildlife, Wild Light offers a greater understanding of the national treasure that is Rocky Mountain National Park. One of the myriad emotions that Wild Light evokes is a deep thankfulness that the stunning landscapes and wild ecosystems of this century-old park were preserved for many generations to enjoy. Its images will imprint themselves on the mind of all readers and inspire them to explore and protect this precious wilderness. You will find yourself both educated and inspired as you read through this inspiring work.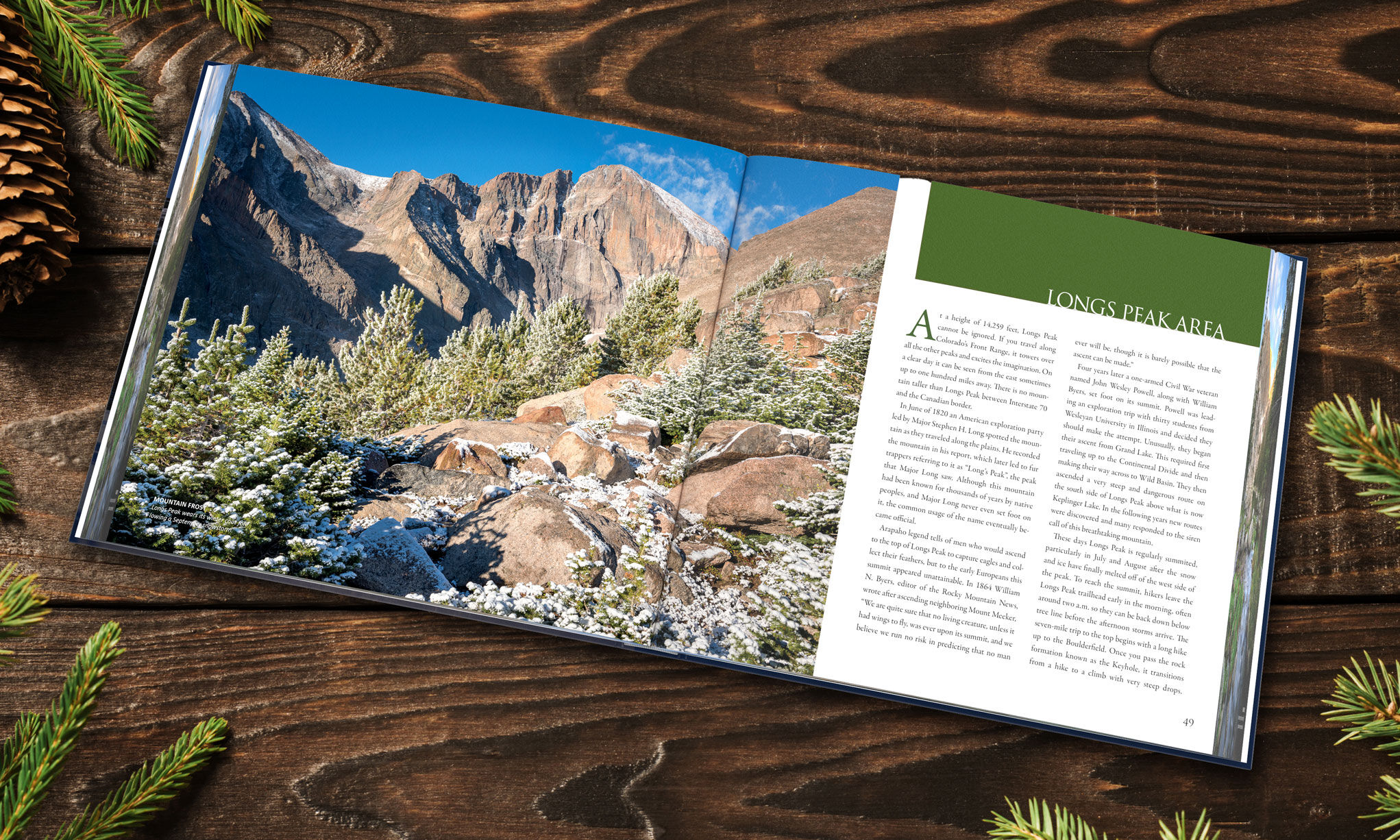 Wild Light is more than just a book; it is a visual journey that will transport you to the heart of Rocky Mountain National Park and make you feel a part of this lofty terrain.
Details
This is a high-quality, hard cover coffee table book that will look gorgeous in any room. Along with educational and inspiring writing about nearly all aspects of Rocky Mountain National Park, it features 194 of Erik Stensland's best photos of Rocky.
Pages: 240
Size: 11.75" x 10.75" x 1"
Weight: 3 lbs. 14 oz.
Format: Printed Laminated Hardcover (PLC) with French-fold dust jacket.
Paper: 150gsm art gloss paper
Certification: Forest Stewardship Council's seal, confirming that the paper comes from renewable sources and that eco-friendly inks are used.
Books per Carton: 8

Retail Price: $49.95
Distribution: Rocky Trail Press, Ingram
ISBN: 9781970099119
BISAC: TRV025120, TRV018000, NAT041000, TRV019000, PHO011020, PHO019000
---
Presale Opportunity (Note from the author)
My plan is to release this book on September 1st, 2023, but to help cover the high costs of printing I am offering it for pre-sale starting today. You may wonder why you should purchase it now instead of waiting until it is released. Your purchase not only helps me to make this book possible, but it also provides you with numerous high-value perks.

Here's what you can look forward to if you pre-order.
Benefits:
Every book you purchase will be signed by me, the author.
You will receive the book before it goes on sale to the general public (dependent on no shipping delays).
We will ship the book to you for free, anywhere in the USA.
For every book you purchase you will receive one 5"x7" print from the book. That's an $18 value.
For every two books you purchase, you'll receive two different 5"x7" prints from the book, which is a $36 value, plus an extra 8"x10" print from the book, which is a $40 value. So this means that for purchasing two books, you will receive three prints with a combined retail value of $76.
Additionally, for every book you purchase (consider buying several as Christmas gifts!), you'll be entered into a drawing to win one or more of the following very special prizes.

A 36"x24" fine art plaque with the image of your choice shipped to you for free, anywhere in the United States. ($864 value)
A 30"x20" fine art plaque with the image of your choice shipped to you for free, anywhere in the United States. ($600 value)
A basket of specialty items from Estes Park. ($150 value)
An early-release advanced copy of Wild Light 2nd Edition to be shipped in June. This is in addition to the one you ordered, which will ship with the others. (priceless)
One of 10 matted plaques. ($35-$120)
Your choice of one of the following:

A 16"x24" plaque ($384 value)
Lunch, coffee, or 2 hours hiking in Rocky Mountain National Park with me, Erik Stensland
An hour private showing of the gallery with me and my staff to which you can invite up to 10 friends and family. Beverages and hors d'oeuvres will be provided.
The presale ends on June 1st at midnight, so be sure to get your orders in before then. If you have any questions or need to give us special shipping information, call my gallery at: 970-586-4352.