Hiking Rocky Mountain National Park: The Pocket Guide is a condensed version of The Essential Guide. It contains 20 of the most popular hikes in Rocky Mountain National Park and is designed for those who have only a few days to explore this amazing place. It was released in May of 2019 and incorporates the very latest park information. It also comes with a companion website that will keep you up-to-date on everything you need to know.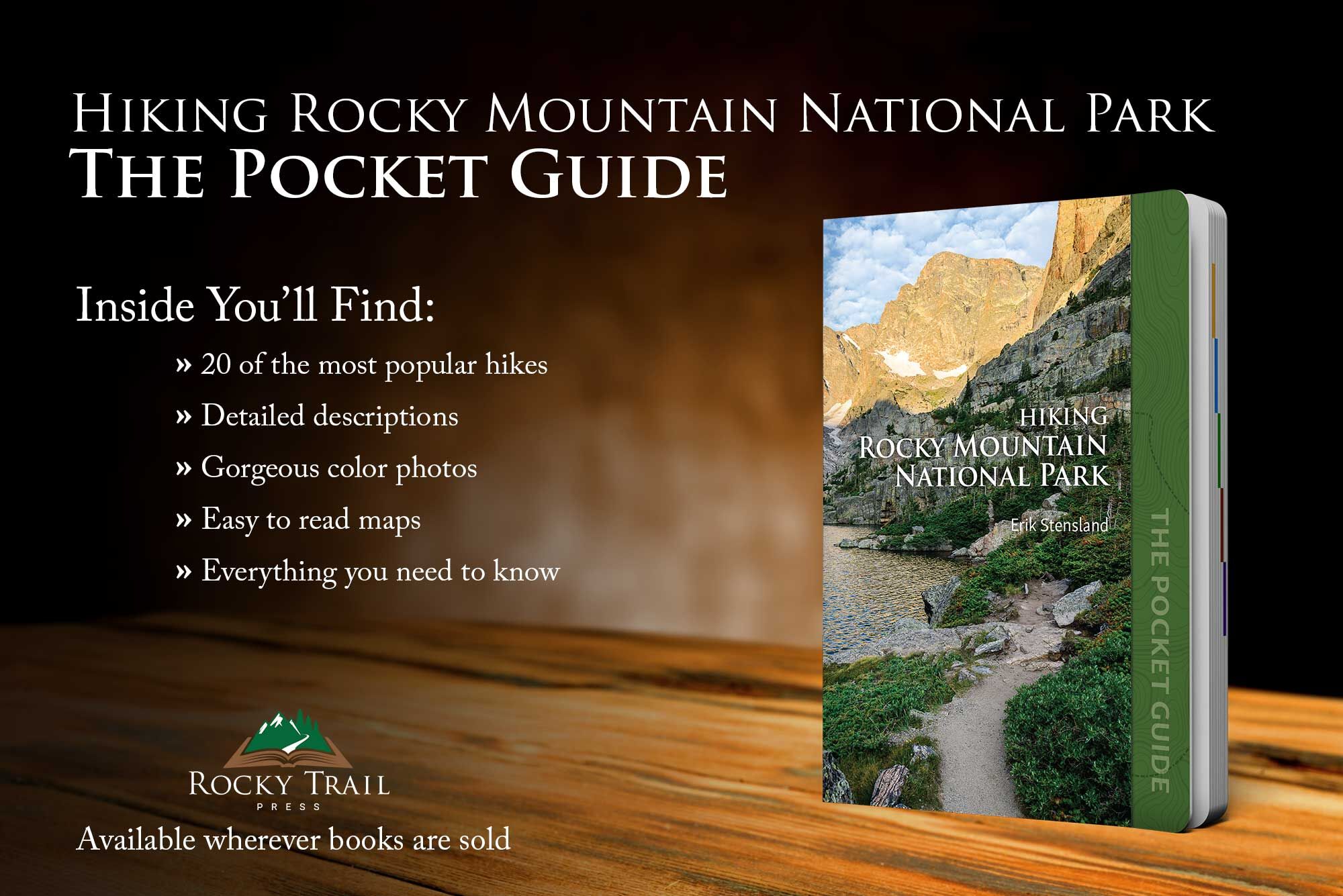 Overview
Hiking Rocky Mountain National Park: The Pocket Guide was written to provide weekend hikers or those on a brief visit with the most accurate and up-to-date information. The goal of the guide is to help you have the most amazing wilderness experience possible. It informs and educates everyone, regardless of fitness level or goals, about what to expect, how to prepare and what to know in order to stay safe while also respecting this fragile environment.
Content
Whether you are looking for a gentle stroll with young children or planning to push your limits, this hiking book has it all. It guides you on 20 of the must see hikes in Rocky Mountain National Park. It takes a unique approach and organizes the hikes by difficulty level rather than by geographical location. It begins with the easiest hike and progresses to the most difficult. The hikes are divided into four levels of difficulty which are color coded making the sections easy to find: Accessible, Easy, Moderate and Strenuous.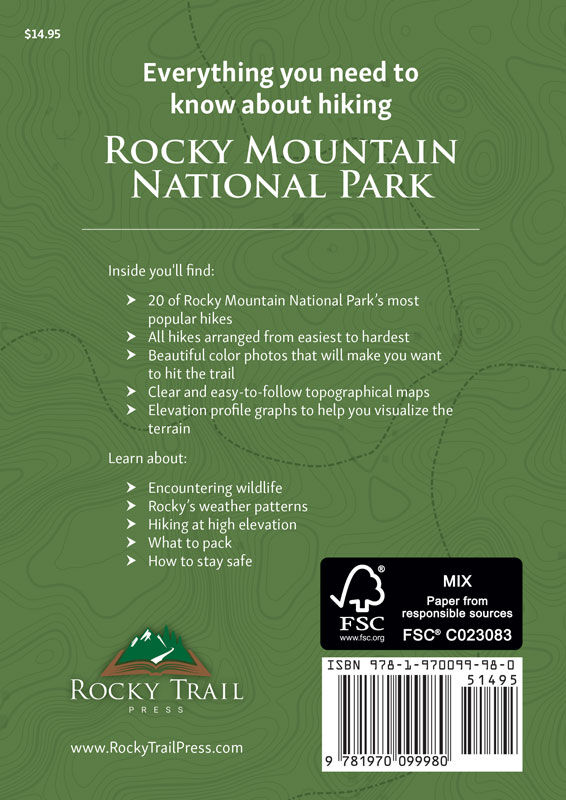 Features
There are over 40 pages of preparatory information to bring you up to speed on everything you should know before venturing into the mountains. Topics covered include:
What to pack
What to wear
Encountering wildlife
What to do if you are lost
Understanding mountain weather
And much more...
Enjoy over 20 custom-made topographical maps that clearly mark the trail and identify waypoints you will encounter along the way. These maps are designed to be easily be readable even by those with colorblindness.

Each hike has a series of easily identifiable waypoints to help you know that you are on-track, along with distance measurements from the trail head and the elevation of that waypoint.

Most hikes in the book are accompanied by an elevation profile graph. This is like a cut-away of the terrain so you can visually see the ups and downs you can expect along the way.

The list of statistics for each hike includes:
total round-trip distance
estimated hiking time
elevation start
destination elevation
total elevation gain
possible wildlife you may encounter
which ecosystems you'll pass through
views you can expect
when the trail is open
the best time of day to go
trail conditions
special reminders
All of the trails were re-measured using the latest tools, resulting in some of the most accurate trail measurements to-date.
Throughout the book you will find beautiful full-color photos and every hike has at least one photo to give you a sense of what to expect.


The text describing where to go and what to look for is conversational, as if the author himself were guiding you on your journey.

Reference Materials
At the back of the guide you'll find definitions of mountain terms you may not know as well as a complete index so you can readily find what you are looking for.
Other Info
Here are a few key facts about the book itself:
Size: 5" x 7" x 0.5"
Pages: 196
Sewn binding for durability
Rounded corners to avoid damage in a pack
Beautiful 150 gsm art gloss paper
Forest Stewardship Council's seal, confirming that the paper comes from renewable sources and that eco-friendly inks are used.
ISBN: 978-1-970099-98-0
Weight: 13 oz.
Books per Carton: 36
The Author
Erik Stensland has spent the last 15 years living at the edge of Rocky Mountain National Park. He has hiked to every hidden corner of this park at all times of day and night and in all seasons in his pursuit of dramatic photos. In preparing this book he re-hiked every trail in the book taking copious notes to ensure you have the most accurate and up-to-date information possible.
---